What's My Puppy Featured on Pawnation.com
Submitted by rick on Tue, 11/30/2010 - 12:45am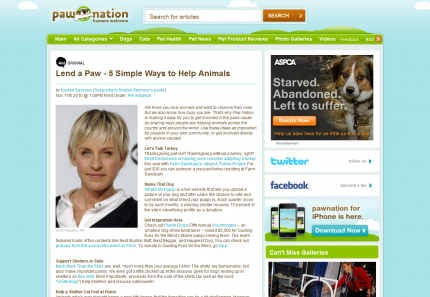 View the original article on Pawnation:
http://www.pawnation.com/2010/11/17/lend-a-paw-5-simple-ways-to-help-ani...
by Kristen Seymour
"We know you love animals and want to improve their lives. But we also know how busy you are. That's why Paw Nation is making it easy for you to get involved in the paws cause by sharing ways people are helping animals across the country and around the world. Use these ideas as inspiration for projects in your own community, or get involved directly with animal causes!
Let's Talk Turkey
Thanksgiving just isn't Thanksgiving without a turkey, right? Ellen DeGeneres is hoping you'll consider adopting a turkey this year with Farm Sanctuary's Adopt-A-Turkey Project. For just $30 you can sponsor a rescued turkey residing at Farm Sanctuary.
Name That Dog
What's My Puppy is a fun website that lets you upload a picture of your dog and offer users the chance to vote and comment on what breed your puppy is. Each quarter (soon to be each month), a winning shelter receives 15 percent of the site's advertising profits as a donation.
Get Inspiration Here
Check out Planet Dog's Fifth Annual Woofminster -- an amateur dog-show fundraiser -- raised $5,000 for Guiding Eyes for the Blind's Maine puppy-raising team. The event featured loads of fun contests like Best Mystery Mutt, Best Beggar, and Happiest Dog. You can check out pictures from the successful event on Flickr. To donate to Guiding Eyes for the Blind, go here.
Support Shelters in Style
Much More Than Me Tees are, well, much more than your average t-shirt. The shirts are fashionable, but also make important points. We even got a little choked up at the reasons given for dogs ending up in shelters on this shirt. More importantly, proceeds from the sale of the shirts (as well as the book "Underdogs") help shelters and rescues nationwide!
Help a Shelter Cat Feel at Home
Anybody who's ever brought home a new kitty knows that the transition can be a bit challenging. However, when the cat comes home with something familiar, it's a bit easier on everybody. That's where Imperial Cat's Adopt-Me Scratch 'n Bits come in. The idea behind the inexpensive, space-saving scratchers is that they give kitty a bit more comfort while in the shelter, and then a new owner brings the scratcher home so the cat has something familiar when they get there. You can get involved by purchasing a case (20 to 25 units) for just $25 and have them shipped to the shelter of your choice. Simply call Kristie, Director of Sales, at 501-354-8466 to donate!